Scotland, July 2006
Wednesday 19 July
Drove 420 miles to Ullapool, stopping at Belsay (coffee at The Blacksmith's coffee shop), some service area on the M90 near Perth (lunch, of sorts), Carrbridge (tea at The Old Bakery) and Corrieshalloch Gorge (sightseeing). Stayed overnight at Ardvreck House B&B just north of Ullapool (highly recommended).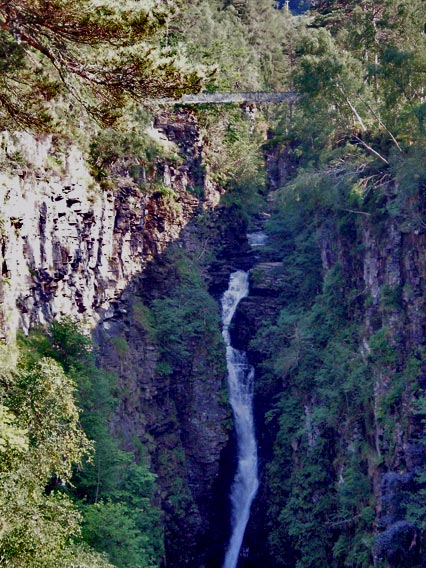 Corrieshalloch Gorge has recently been reopened to the public after extensive renovation work by the National Trust for Scotland. This is the view of the Falls of Measach and the suspension footbridge above, taken from the spectacular new viewing platform.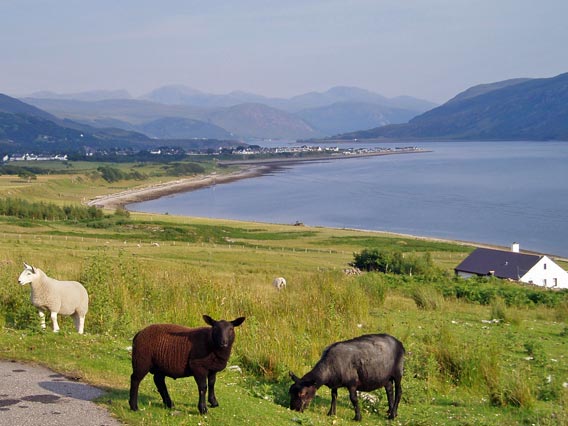 The view from Ardvreck House: Ullapool and Loch Broom, with the Dearg hills in the distance.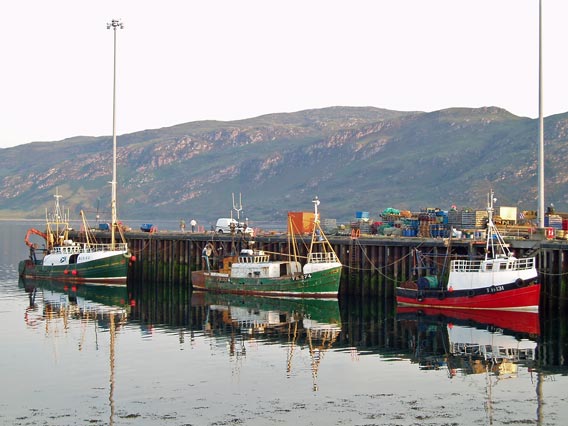 Fishing boats in Ullapool harbour, late evening. (The prawns they catch are mostly not for local consumption. They are airfreighted straight to restaurants in Barcelona.)
Thursday 20 July
Drove up the west coast of Scotland almost to the top, then walked along the clifftops to Sandwood Bay, returning via the "tourist track" to the car park on the nearest road, four miles from the beach. Then drove round the northwest tip of Scotland, stopping to see Smoo Cave, and going on to Tongue, where I stayed for two nights at the Ben Loyal Hotel.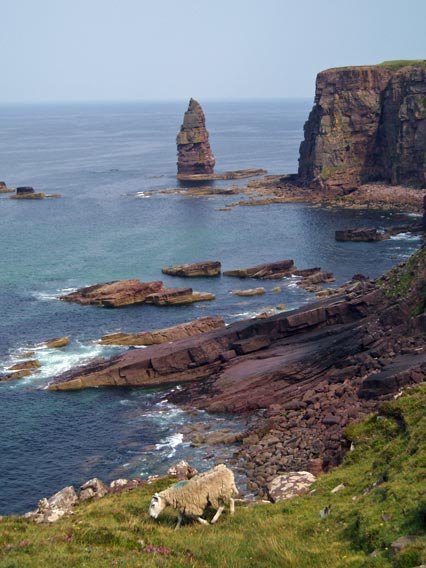 The prominent stack of Am Buachaille, seen from the clifftop path to Sandwood Bay.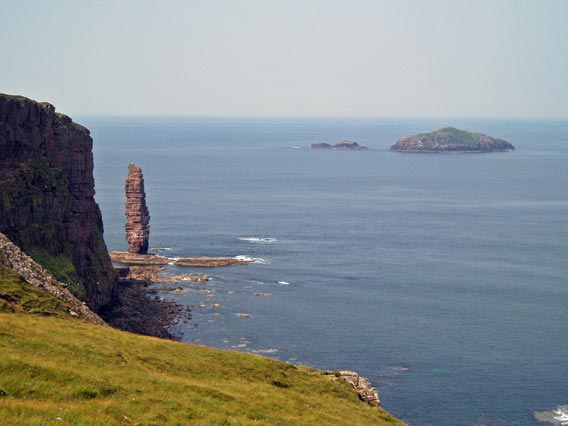 Another view of Am Buachaille, with the little island of Am Balg 2km out at sea.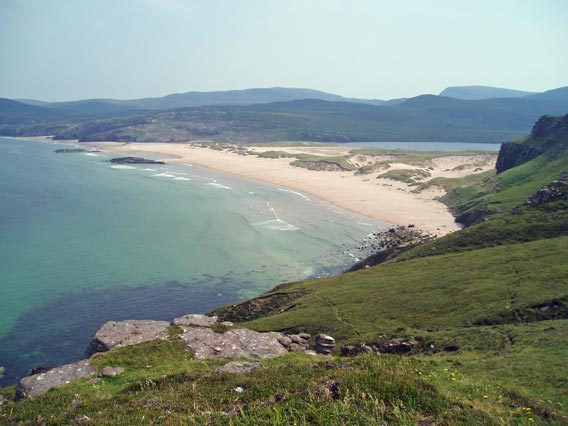 You don't need to go to the Seychelles to sunbathe on idyllic empty beaches. This is Sandwood Bay in the far northwest of Scotland, on one of the hottest days of the year. Perfect!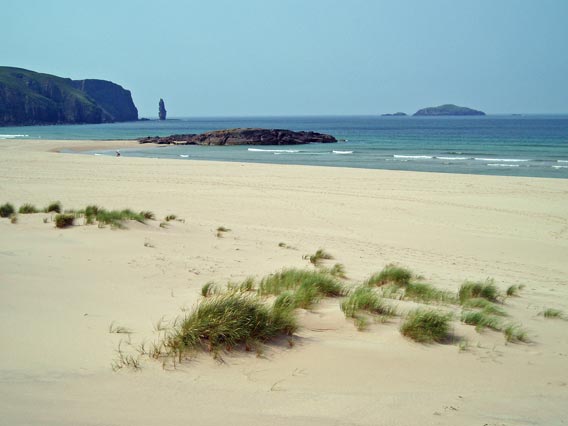 Another view of Sandwood Bay, with Am Buachaille and Am Balg in the distance.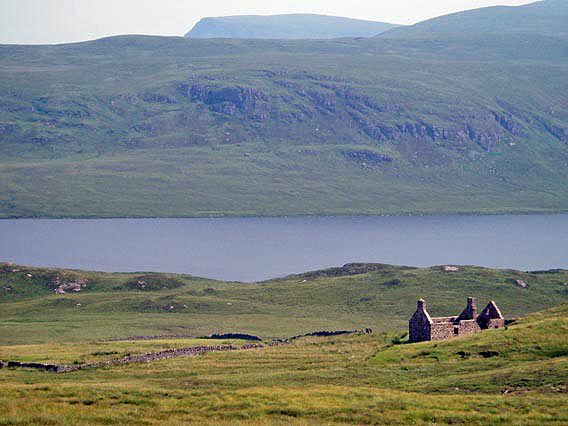 Sandwood Loch, seen from the track leading back to the car park.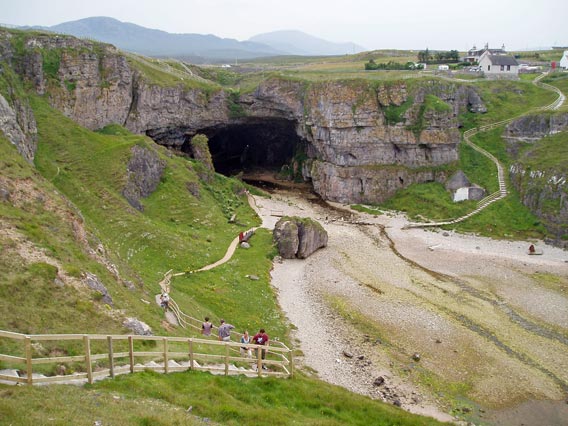 The entrance to Smoo Cave near Durness.
Friday 21 July
While the rest of Britain was sweltering in a heatwave, there was heavy overnight rain in Tongue. The rain eased off in the morning, but there was low cloud all day. I climbed Ben Hope, then went to see the Iron Age broch of Dun Dornaigil, still (partly) standing after 2000 years of exposure to fierce storms.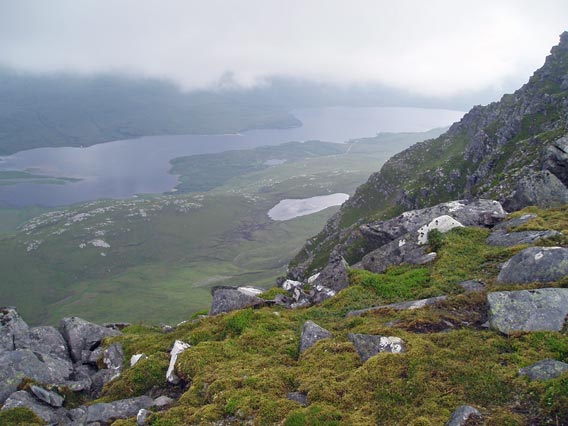 Last view of Loch Hope from the slopes of Ben Hope, before heading up into the cloud.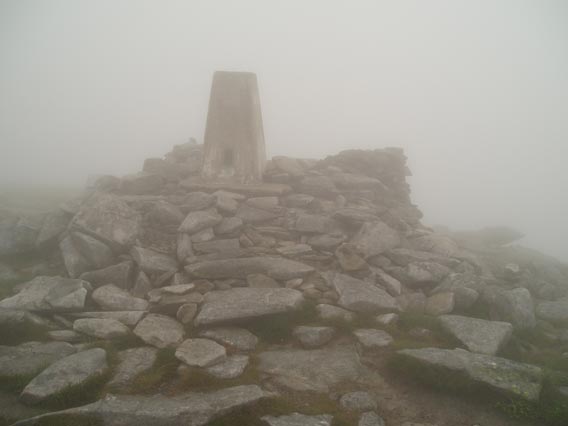 The summit cairn was hard to find in the cloud. It was only visible from a few metres away.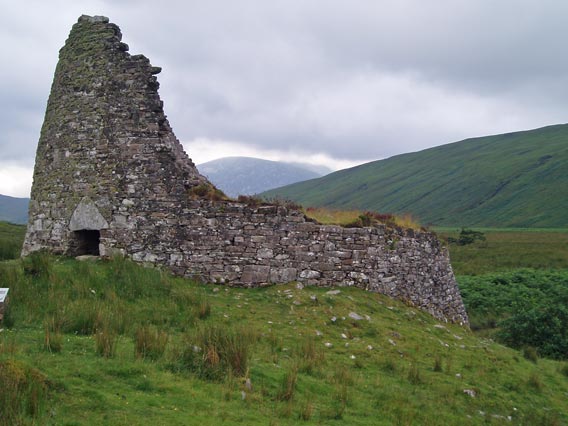 The Pictish broch of Dun Dornaigil.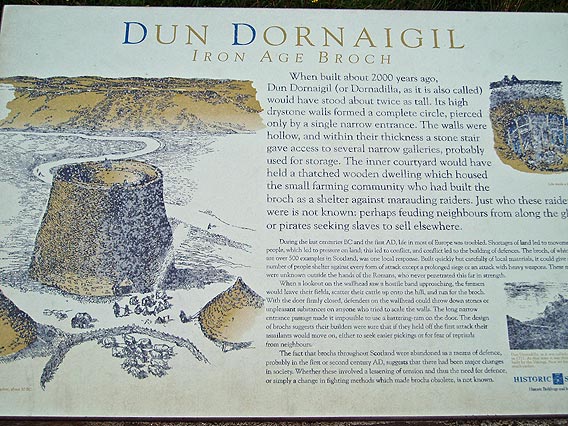 The plaque beside the broch.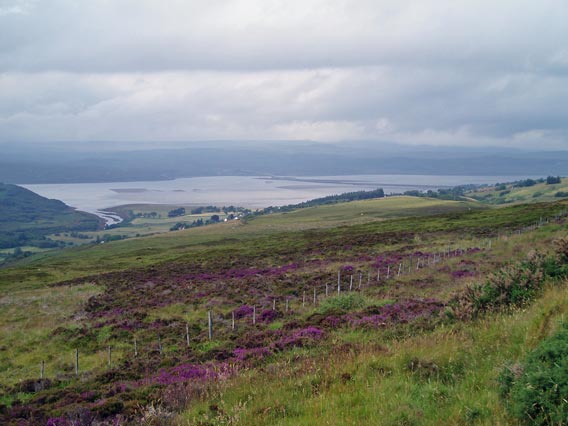 The north coast of Scotland. This is the Kyle of Tongue (crossed by the causeway carrying the coastal road), with roadside heather in the foreground.