Colmenar, 26 Aug.–9 Sept. 2001
We stayed at the Venta Los Arrieros as usual, and for the first few evenings Steve, Jo and Tommy came to join us there for dinner. Tommy was very taken with the bar at the hotel. He has learned to ask for jamón, whereupon Antonio the bartender serves him his favourite snack. When Antonio first saw Tommy he tried to greet him with a "high five". Tommy was frightened by Antonio's upraised hand, so we had to demonstrate to him what was expected. After a while, Tommy got the idea and raised his own little hand to meet Antonio's. Later, I took Tommy up to our room, and as we left the bar I said to him, "That Antonio's a strange man, isn't he?" Tommy thought about this for a bit and then started chanting "Strange man! Strange man!", all the way up the stairs and along the corridor to our room.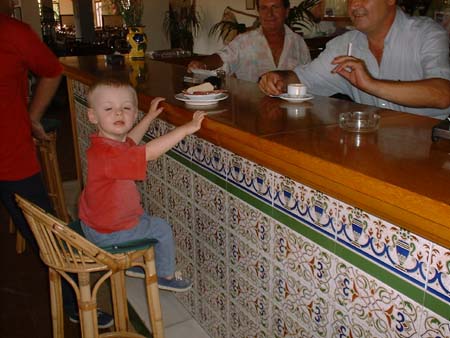 Tommy isn't speaking in sentences yet, but has quite a large vocabulary, and he is learning to put words together into short phrases. Beside the hotel there is a parque infantil or children's playground, with swings, climbing frames, a roundabout and a slide. The first evening we were there, there were some older girls using the slide, and Tommy was watching them intently. When he saw one of them at the top of the slide, about 8 feet above ground, he said to himself very solemnly, "Long way down." We thought that he was far too small to use the slide himself, but the next evening there were no other kids in the playground and Tommy ran over there and started to climb it. The steps were almost as high as he could manage, but he climbed all the the way to the top, pausing only to look over the side and comment "Long way down" before launching himself down the slide. Steve and I had to be close at hand, one of us standing behind the steps in case he slipped, and the other one waiting at the bottom of the slide to catch him as he came hurtling down. He really enjoyed this and kept demanding to do it over and over again.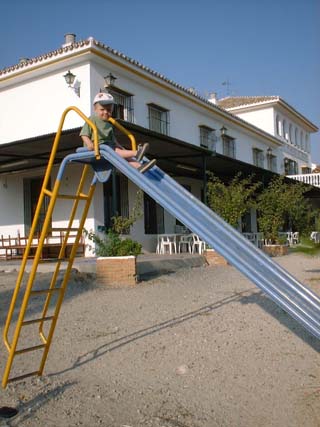 We spent the days at the finca. Steve has been doing a lot of work on the house, and it is incomparably more comfortable than when they first bought it as a semi-derelict ruin. The first Wednesday of our visit was Tommy's second birthday, and he spent the morning opening presents. His favourite was a play house in the form of a little tent. He loved climbing in and out of this, but before long he decided that it was his bar, from which he would serve tapas de jamón and horchata.
Part of the reason for our going to stay with them was so that we could house sit for them and look after their animals (Nutmeg the dog, five cats and four hens) while they went off on a short trip. They left the day after Tommy's birthday and were away for a week, staying for a couple of days with some friends near Ronda and then going to further west to go house hunting in the country between Seville and the Portuguese border.
While Steve, Jo and Tommy were away, Mary and I continued to stay overnight at the hotel but we spent most days at the farm. There wasn't much to do there apart from feeding the animals and cooking for ourselves, but we were happy to spend the days relaxing, reading and just enjoying the tranquil atmosphere of this beautiful place that we have come to love so well.