Kariega Game Reserve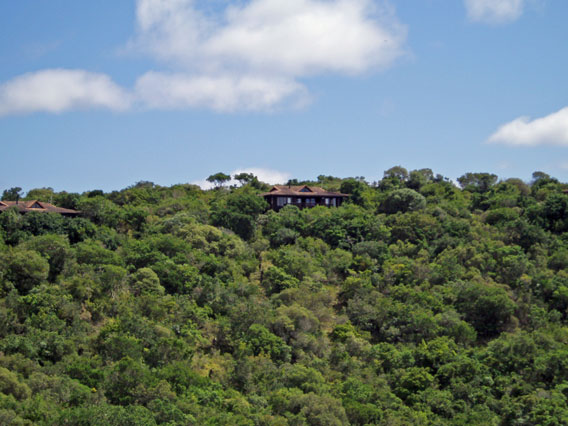 Chalets at the Kariega game reserve.
Our ranger/driver Salomon at the wheel of the Land Rover (actually a Toyota Land Cruiser).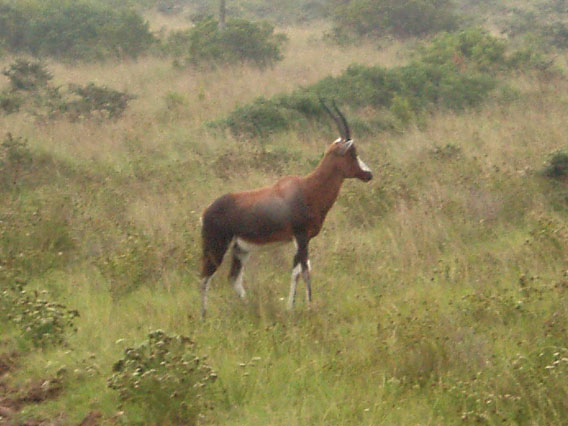 One of about 20 varieties of antelope that we saw. This is an eland (I think).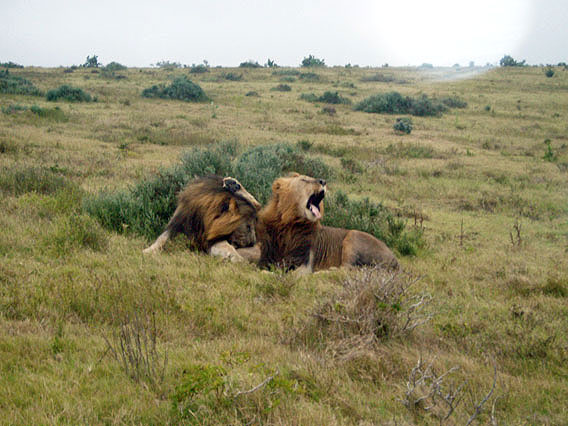 Two lions (the one on the right was yawning, not snarling at us).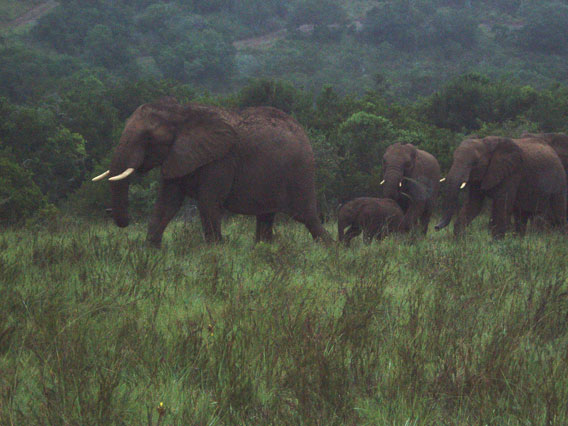 It was raining and late in the evening when we saw the elephants, so the picture is not good.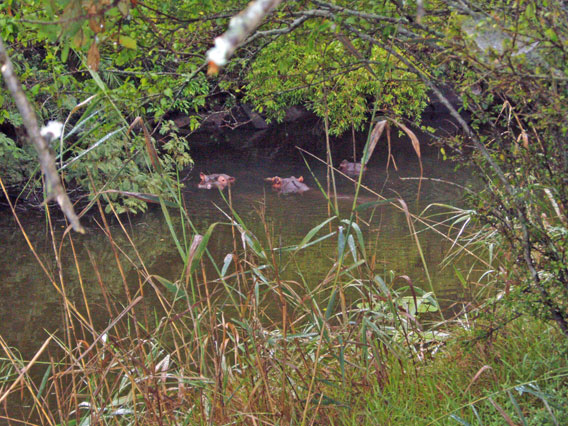 If you can see more than the ears and eyes of a hippo then it's time to turn and run (they are the most dangerous beast in Africa).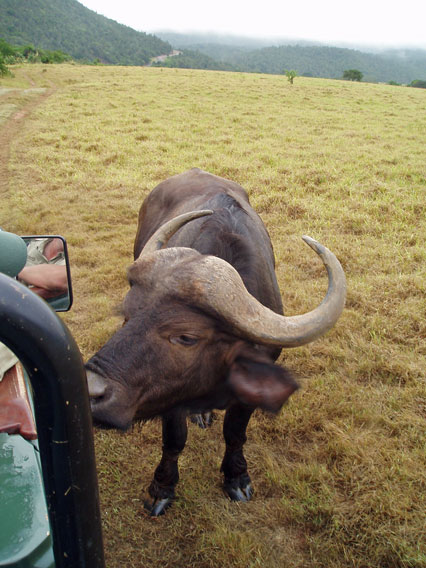 Close encounter with a buffalo (in Africa, buffalo means water buffalo).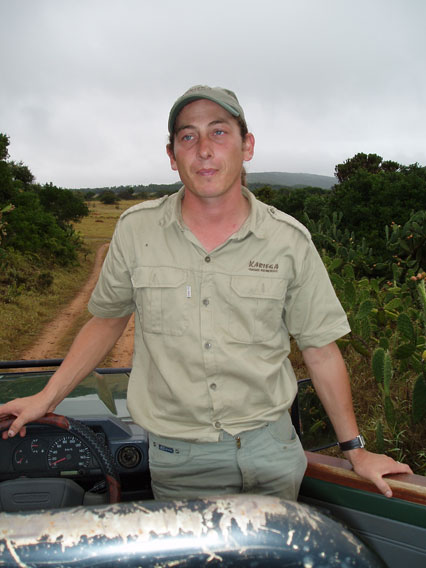 Salomon telling one of his tall stories.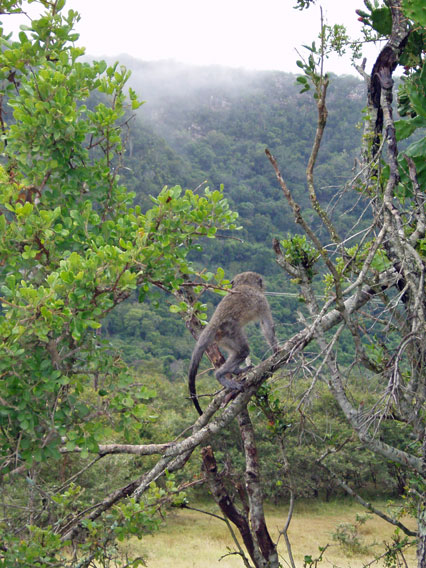 We saw baboons and monkeys all over the place but they are hard to photograph. This vervet monkey turned away just as the photo was being taken.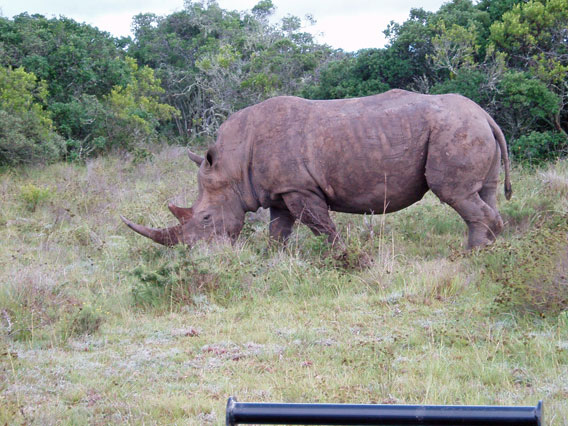 The rhino seemed quite oblivious to us, fortunately.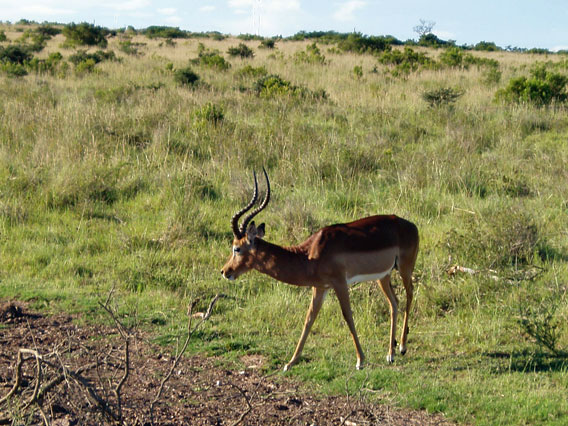 Another antelope (an impala?).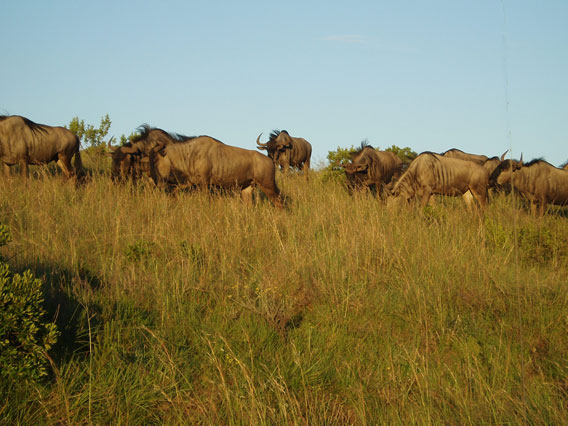 A group of wildebeest.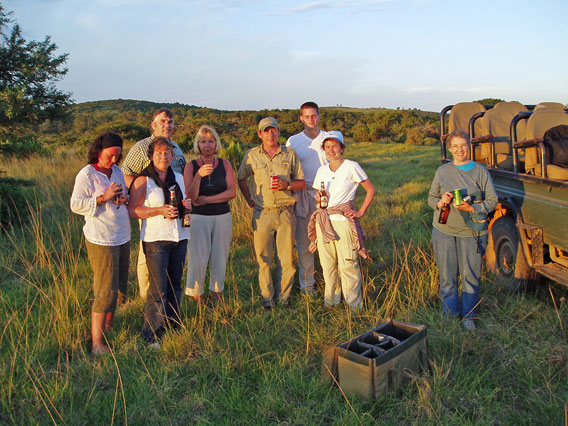 Our group having a drink at sunset (but we had to cut it short because the elephants were heading our way).
Footnote:

A narrow escape.

There are two large commercially run game reserves in the Eastern Cape area, Kariega and Shamwari. Shamwari is better known, and is recommended by the normally infallible Lonely Planet guide, but it is very expensive and I decided to book us into Kariega, which is also expensive but not quite so exorbitant. This turned out to be a very good decision. The accommodation at Kariega was luxurious and the staff were first-class. While there we saw all the big game animals of Africa in their natural surroundings (except for leopards, which are secretive, nocturnal creatures).

We were assigned to a group of eight people in the care of a ranger/driver called Salomon. There were about six of these groups, each with a highly competent ranger in control. In the early morning and again in the evening Salomon took us on a game drive, in an open Land Rover-type vehicle. There was a friendly rivalry among the rangers to get their group into the best position to see the animals, and Salomon was one of the best. He seemed to sense just where to find the game, and to position us to get the best, close-up view of lions, rhinos, giraffes and all the other game on the park. There was only one occasion when he didn't do so well. He thought he knew which route the elephants were taking, and he drove us across country to where he thought they heading. But the lead elephant decided to go another way, and the other groups were all in a better position than us to see them. I think this must have piqued Salomon, and he started to drive a bit recklessly. He tried to make a sharp turn onto a narrow, rutted track up a very steep slope. The vehicle ground to a halt, slipped back a bit and the two nearside wheels sank into a very deep rut. I was sitting on the other side of the Land Rover, which keeled over alarmingly. The offside wheels were at least two feet in the air, and I was sure that the vehicle was going to overturn. I grabbed the anti-roll bar in front of me and leaned out sideways as far as I could, like a yachtsman, trying to provide a bit of balance. The man sitting behind me did the same, but the other passengers all slid across to the lower side of the car. For a moment it was touch and go, but Salomon put the car into reverse, locked the wheels and slowly backed down to the track we had just left. He made light of the whole incident, claiming that these vehicles could tilt to an angle of 60° without tipping over. But I was sure that we had been very close to a disaster, and we were all quite shaken by this incident.

For the rest of the drive, Salomon teased us about this. Driving along a track beside a steep ravine, he saw an overgrown path leading down into the canyon, called out "Hold TIGHT!" and swerved towards it, before turning back to the track at the last moment. We laughed and swore at him, but forgave him because with that one exception he gave us two days of very memorable experiences.

That's not quite the end of the story, though. Two days later, we had left Kariega and were staying in self-catering accommodation. We went to a supermarket to buy some provisions, and as we were waiting at the checkout we saw a stack of local papers. I was horrified to see this headline: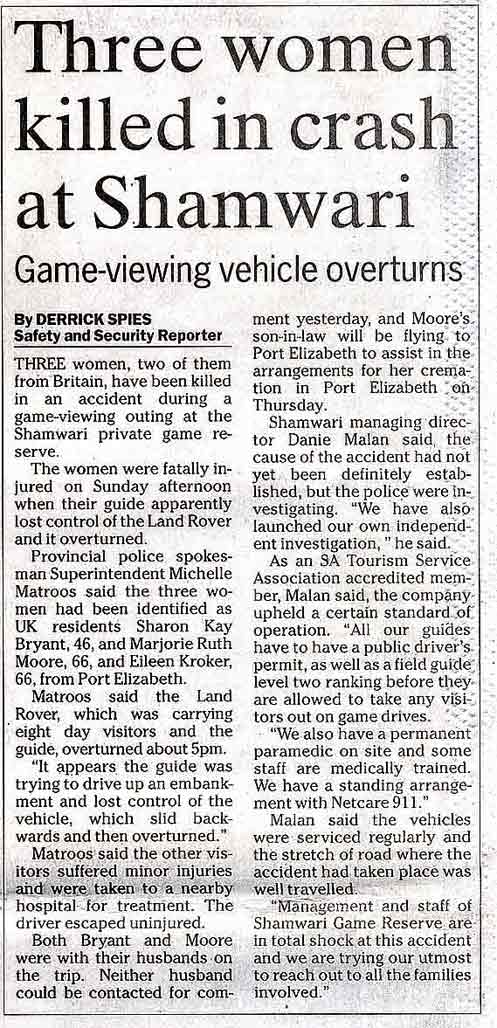 [Front page story in The Herald, Tuesday, 21 February, 2006.]
Oh, God. That described almost precisely what happened to us, except that instead of being a slightly alarming moment that was turned into a joke, it ended in catastrophe. This tragedy happened just one day after our little incident, at the other game reserve, the one I had decided not to go to. I tried not to think how I would have felt if I had been the husband of one of those women, an exhilarating holiday experience changed in an instant into unimaginable horror. It so nearly happened.