Week 6: Yellowstone to Philadelphia
Tuesday 29 June
First view of a bear
I took several photos of mineral pools, rocks and thermal features in Yellowstone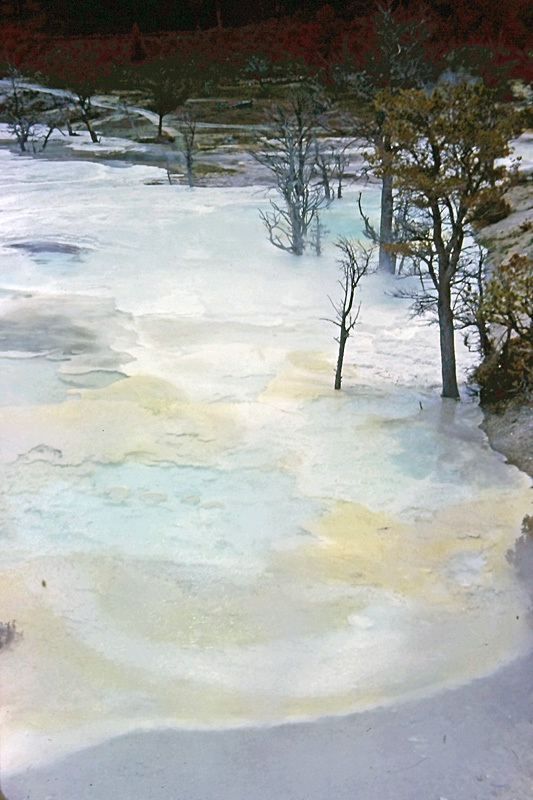 The Grand Teton range across Lake Jackson
We camped in Grand Teton National Park.
Wednesday 30 June
Early morning view from the campsite
Two more views of the Grand Tetons
We then headed back to Yellowstone
The moose seemed unconcerned at being surrounded by tourists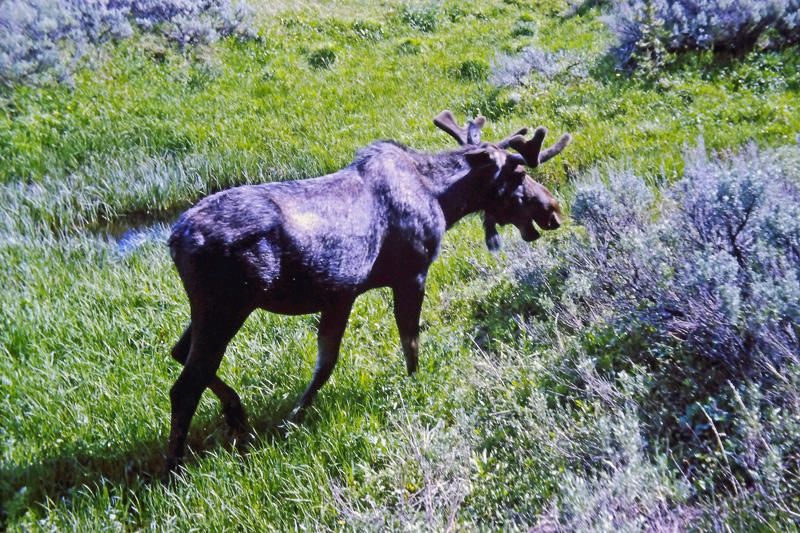 The Grand Canyon of the Yellowstone
Roadside bear in Yellowstone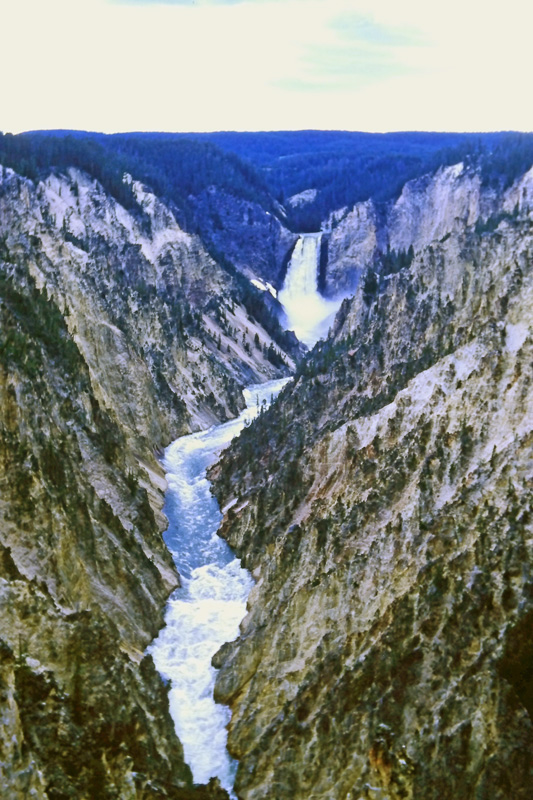 Two more views of the Yellowstone Grand Canyon
We left Yellowstone by the East entrance, and camped in a remote and primitive campground in the Shoshone National Forest.
Thursday 1 July
Buffalo Bill Dam, Cody, Wyoming
We followed a back road across part of Wyoming
Wyoming State Route 31 is a smoothly paved two-lane highway today, but in 1965 it was not much more than a dirt track
Wyoming countryside seen from SR31
The Bighorn Mountains took us by surprise – we were not expecting any more big climbs after leaving the Rockies. But the little red car took this one in its stride.
Two local characters in Gillette, Wyoming
Approaching the Devil's Tower National Monument
We camped in Custer State Park, South Dakota.
Friday 2 July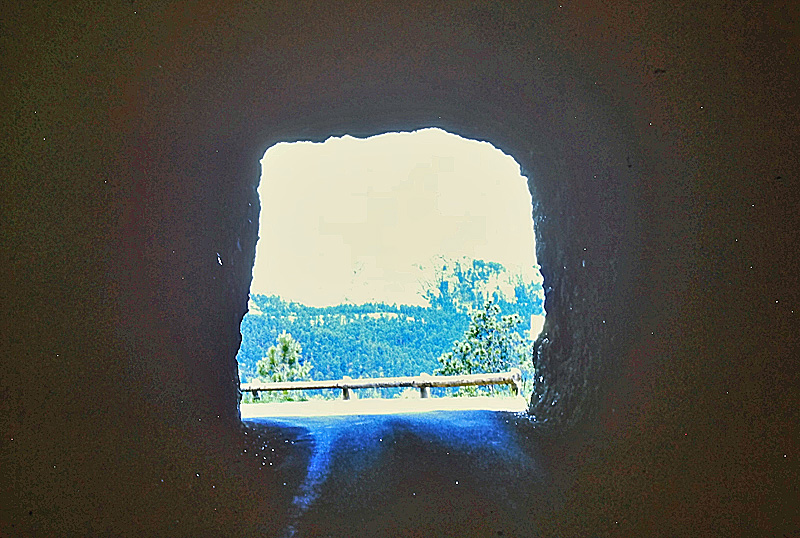 Tunnel on the approach to Mount Rushmore
Mount Rushmore
We took a detour through the Badlands of South Dakota, and I took several photos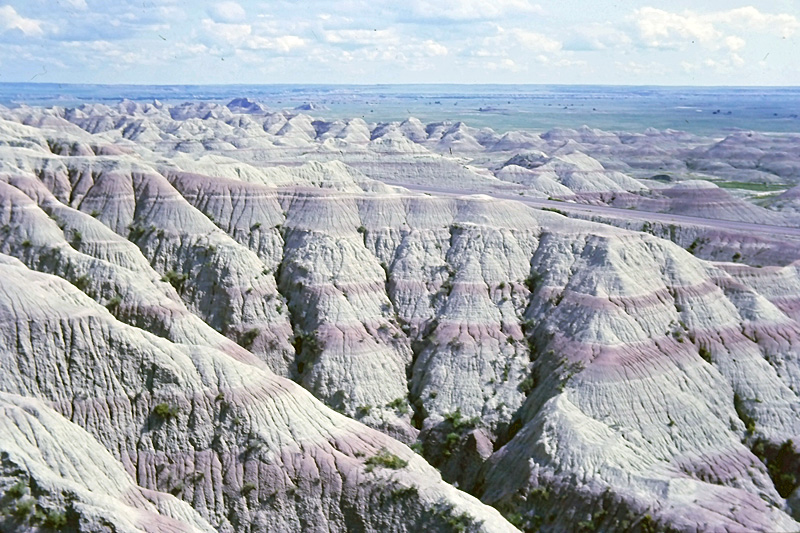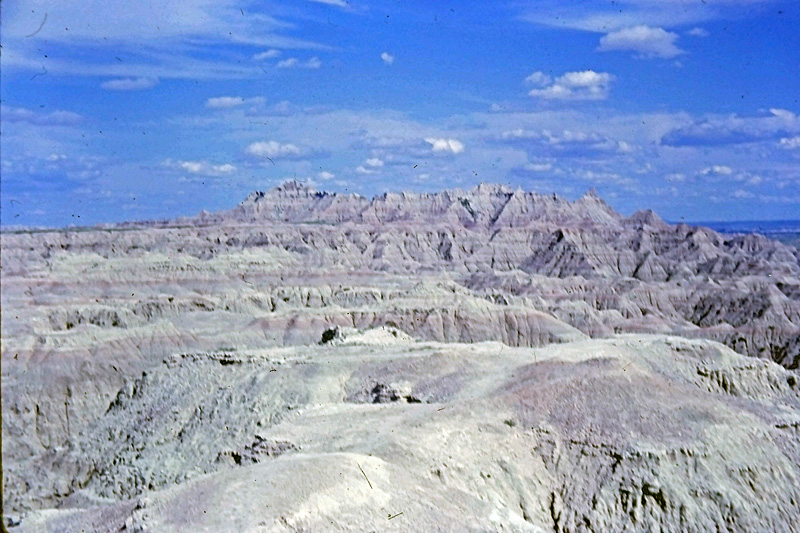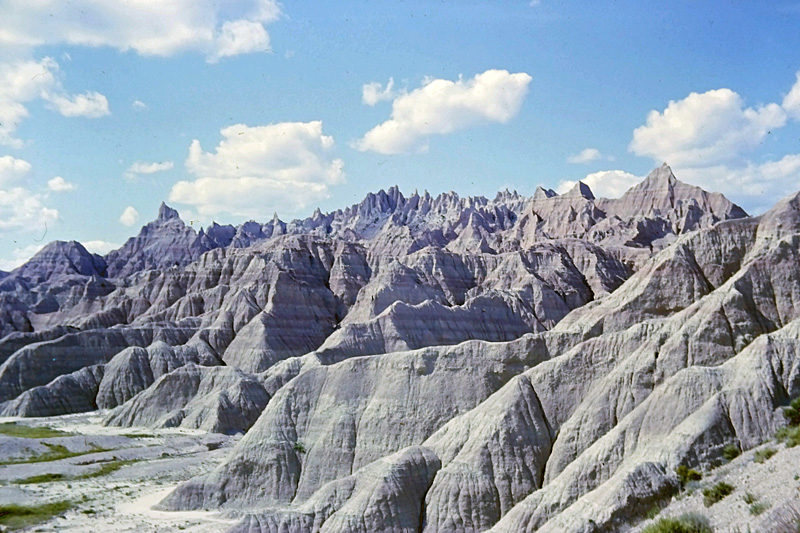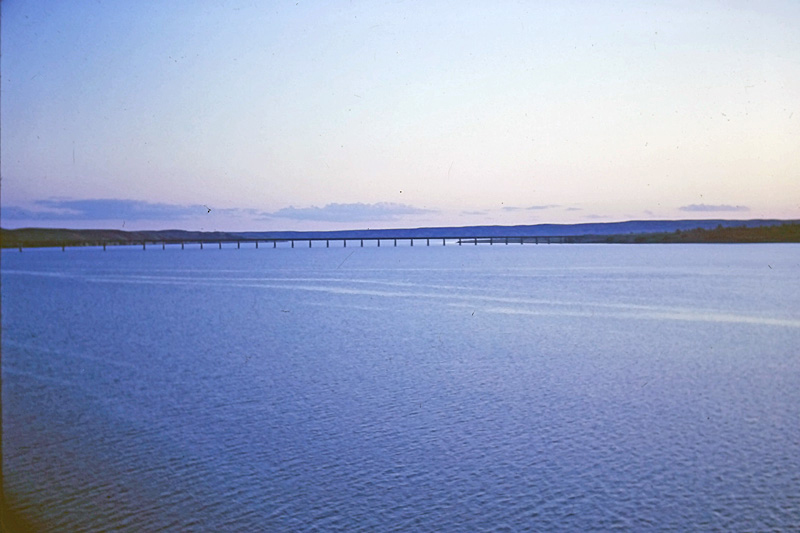 "'Cross the wide Missouri" at Chamberlain, South Dakota
Nightfall on the prairie
We camped in East Vermillion State Park, somewhere near Sioux Falls, South Dakota.
Saturday 3 July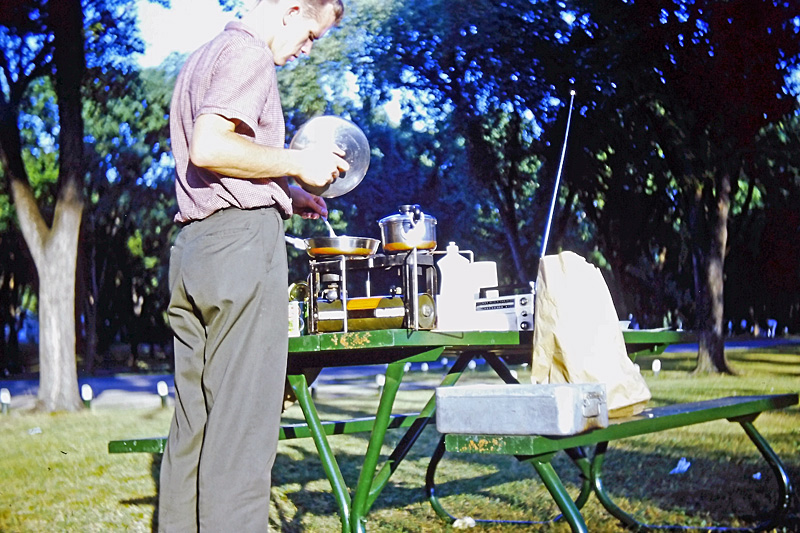 Preparing dinner at Illinois Beach State Park
We spent the morning in Sioux Falls having the car serviced. In the afternoon we drove 550 miles across Minnesota and Wisconsin, reaching the shores of Lake Michigan, where we camped in Illinois Beach State Park.
Sunday 4 July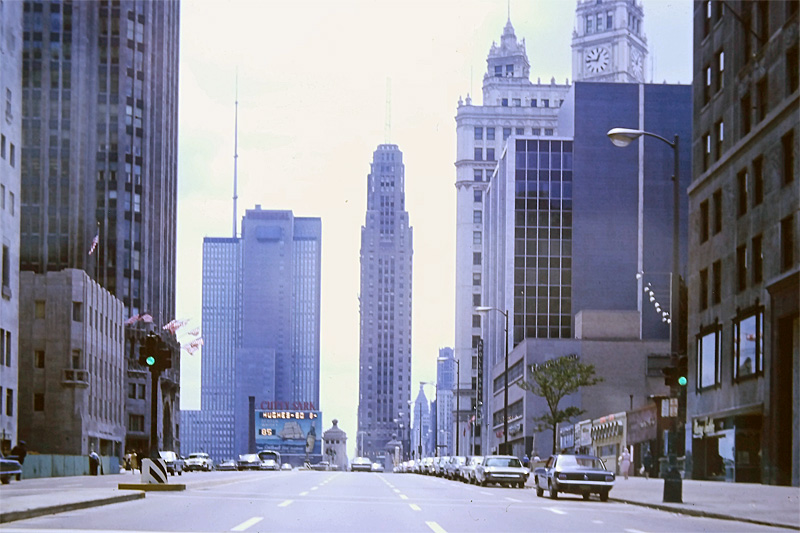 Downtown Chicago on a quiet Sunday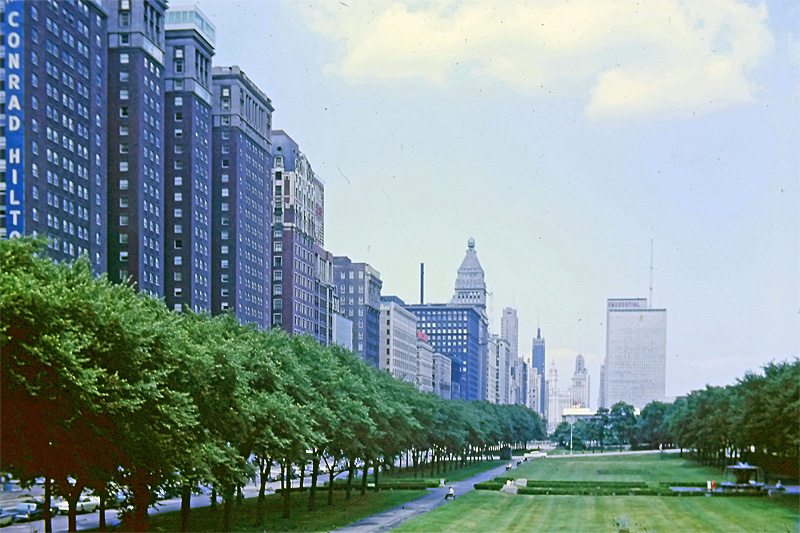 Beachfront gardens in Chicago
Famous evangelical church in Chicago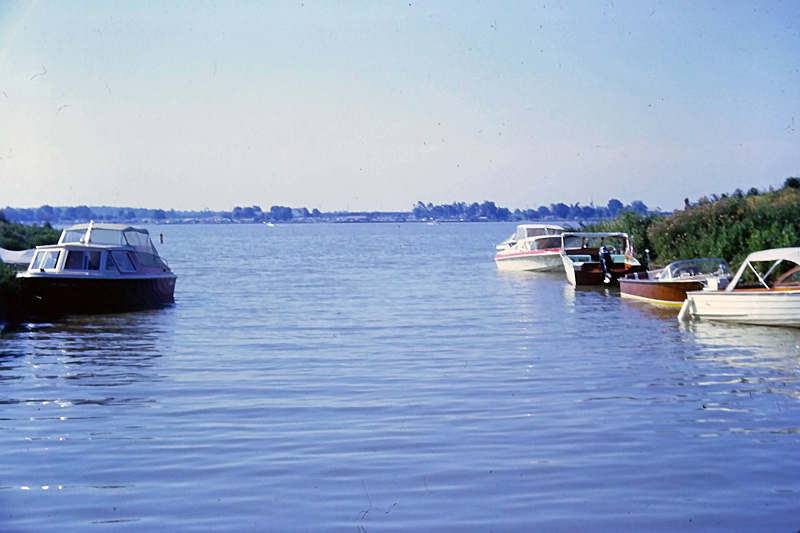 Lake Erie at Port Clinton, Ohio
For our final night of camping, we found a campsite in Port Clinton and were kept awake by Fourth of July fireworks.
Monday 5 July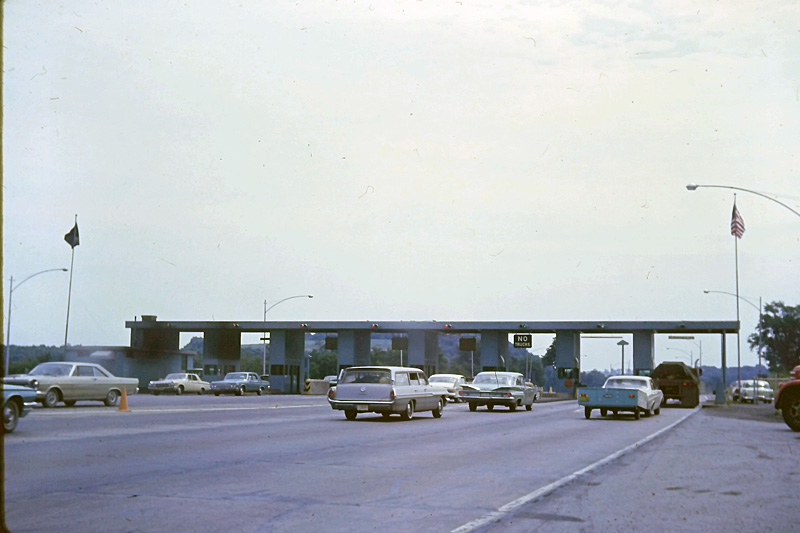 On to the Pennsylvania Turnpike for the last leg of the journey back to Philadelphia
The bottom line: We travelled 12000 miles in six weeks. With petrol at 30¢/gallon, that worked out as $60 travel costs for each of us. We camped in 30 campsites, some of them charging a dollar or two and some of them free. We had a couple of restaurant meals, in New Orleans and in San Francisco, and we were generously treated by the various friends and family that we stayed with. Apart from that we catered for ourselves, cooking on a little Coleman camping stove. At that time there were about 30 National Parks in the USA, and we visited nearly half of them, along with several National Monuments (some of which have since become National Parks).
Our route