Week 5: Rocky Mountains
Tuesday 22 June
Mary and me, with Debbie and David standing on a tree stump, in Stanley Park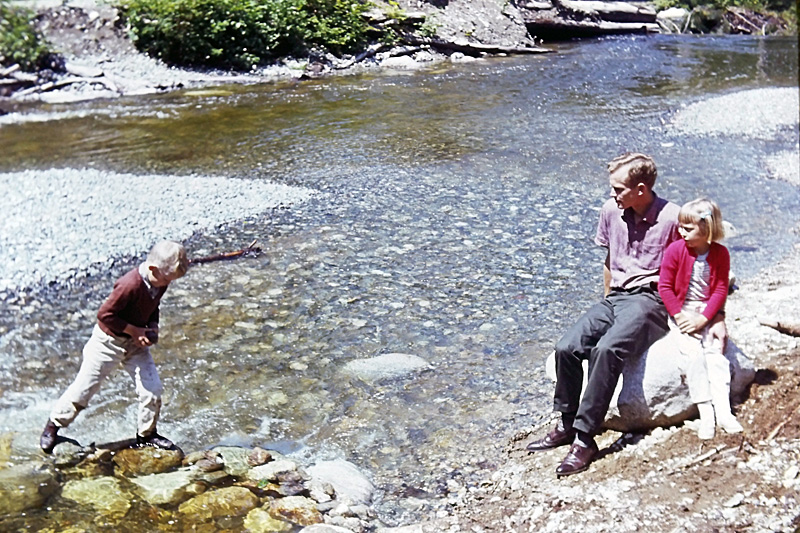 David and Debbie with Clive
This was the second rest break in our six-week tour, and we were glad for a quiet day strolling in Stanley Park. Later, we all went to the cinema to see The Sound of Music, which I enjoyed as much as the children did.
Wednesday 23 June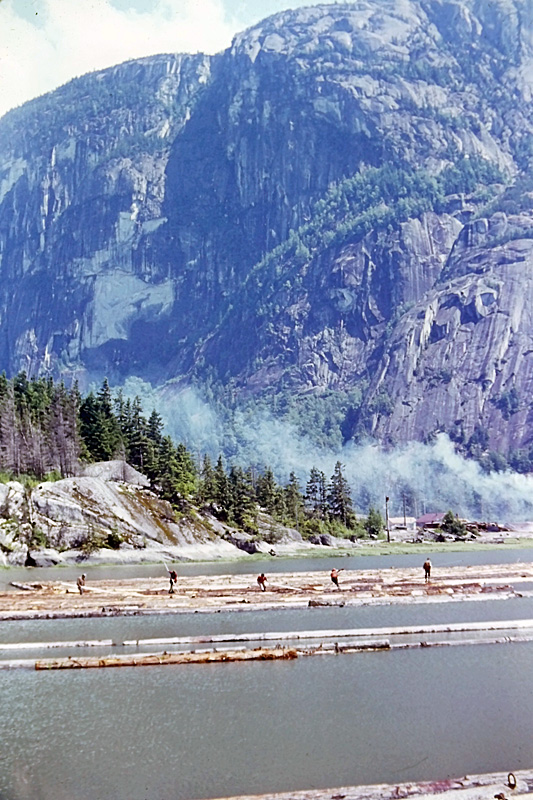 We all went on an excursion to Squamish. The slide shows loggers at work on the Squamish River.
Mary and Bill with their older children Tricia and Judy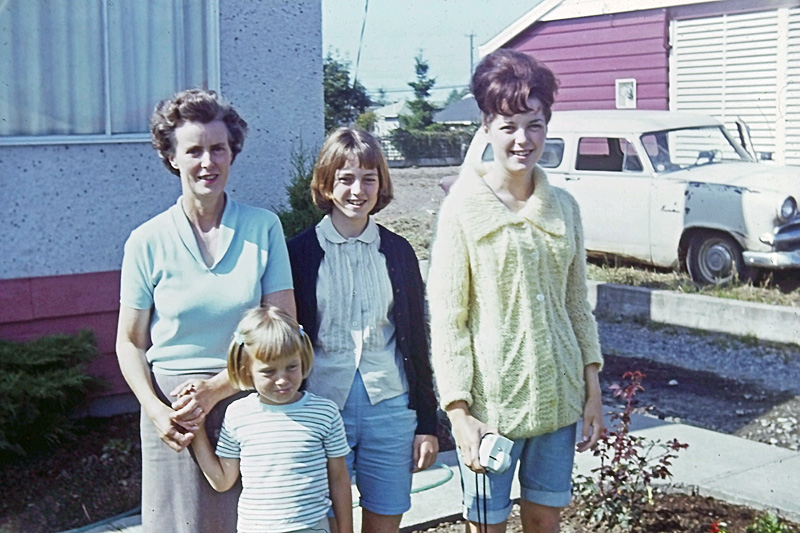 Mary, Tricia and Judy, with Debbie in front
Thursday 24 June
After saying goodbye to my cousins we set off for the next leg of our trip, across the Canadian Rockies.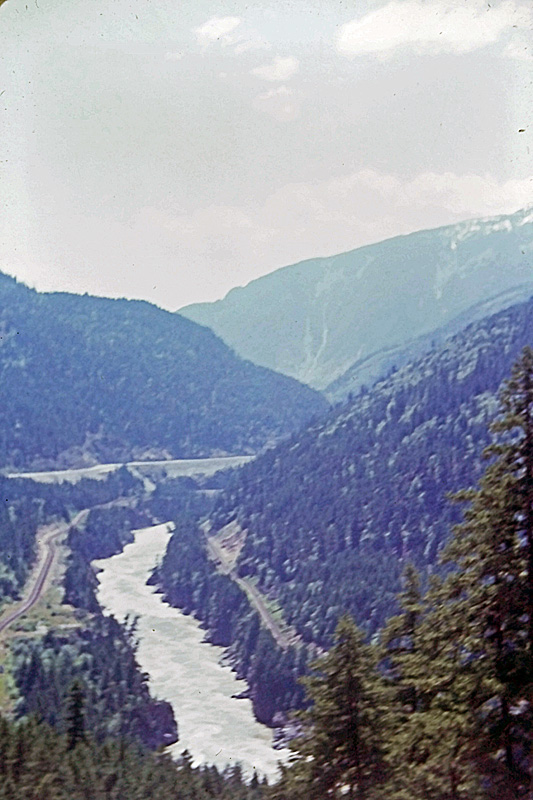 Frazer Gorge
Heading towards the Rockies on the Trans-Canada Highway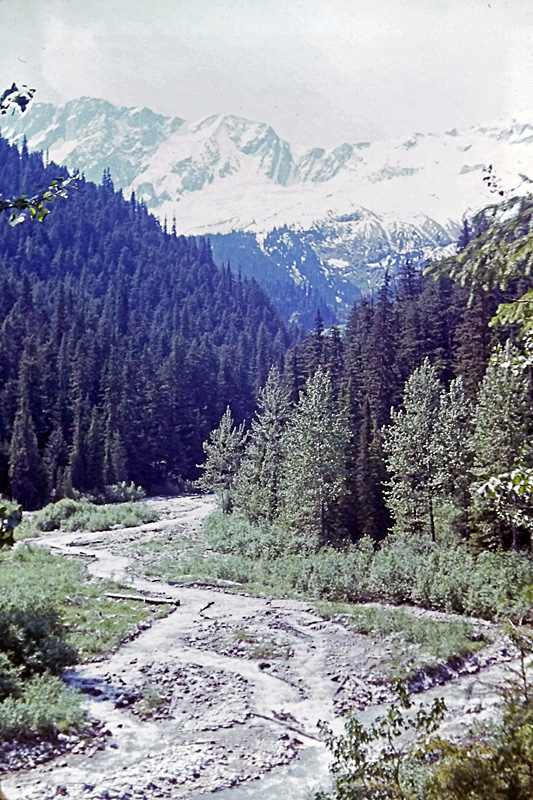 In the (Canadian) Glacier National Park
We camped in Glacier National Park.
Friday 25 June
Getting closer to the mountains. This section of the Trans-Canada Highway had only been completed three years previously.
Rogers Pass
Natural bridge on the Emerald River in Yoho National Park
The ugly structure above the natural bridge has long since been demolished
We camped at a primitive campsite in Yoho National Park.
Saturday 26 June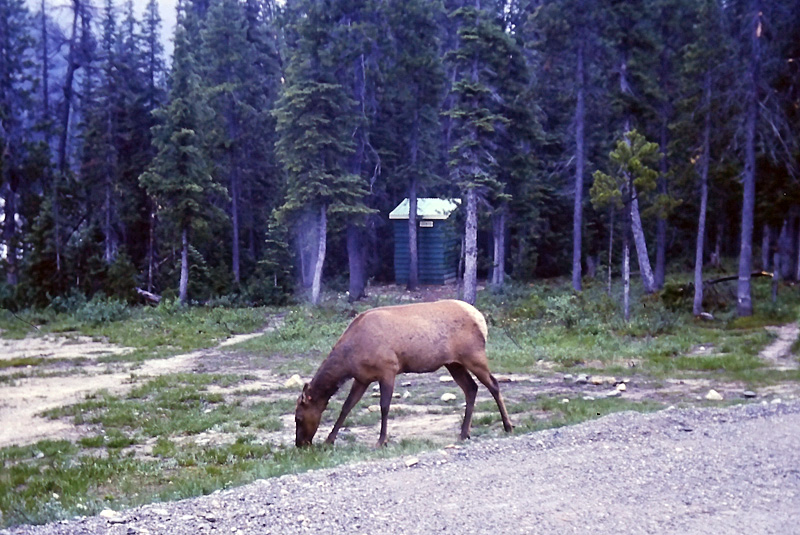 One of a pair of elk that strolled into the campground as we were having breakfast
The other elk scavenged in the trash bin and ate the leftovers from our previous night's dinner
The overlook at Kicking Horse Pass
From the overlook we could see a train entering (or was it leaving?) one of the spiral tunnels
Crossing the continental divide at Kicking Horse Pass
Lake Louise on a cold, wet day
Lake Louise Hotel (we didn't go in)
Snowfield seen from the Banff-Jasper highway
The highway seen from the snowfield
We didn't have time to get to Jasper, so after a brief walk in the snowfield we headed back to Banff
We camped in Banff National Park.
Sunday 27 June
We enjoyed a swim in Banff Hot Springs Pool
We drove through Calgary and back into the USA, camping in the (American) Glacier National Park.
Monday 28 June
Logan Pass, on a miserably cold, wet day
We would have liked to spend more time in Glacier National Park, but the weather was against us, so we drove on south, and camped in Pine Creek, Montana.